America's Boating Course
This is an in-depth boating safety course that is taught periodically by member instructors who have broad experience in boating. It provides basic knowledge to become a more competent boater and is recognized by most states for a boat operators permit. It is taught nationwide as a civic service to the public to make boating safer and more enjoyable to all. It is also offered as an interactive self-study course or online over the internet.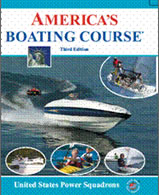 All Boating Courses
America's Boating Club of Colorado teaches a series of certified courses that cover advanced boating topics. These instructor based classes are typically 6-8 weeks in duration and are open to non-members as well as members. These courses include advanced grades of boating in addition to electives. They cover subjects such as seamanship, navigational techniques, boat systems, sailing, and more.